5 great places to play golf near Santa Pola.
Golf La Finca:
A unique place to be designed by Pepe Gancedo, one of the best amateur players in the history of golf in Spain, it has one of the best golf courses in the Valencian community and España.Es a course with wide and generous streets, que le da un excelente margen de perdón a los hándicaps más altos, lo mejor de este campo son lo greenes de Golf que son de variadas formas y singular belleza, haciendo que cada greenes sea único. Unos de los greens más famosos es el número 7 de forma cuadrada y con grandes dimensiones que recuerda a una pista de bolos ingleses. igualmente el hoyo 14 greenes para recordar ya que recuerda a la forma de un wok chino.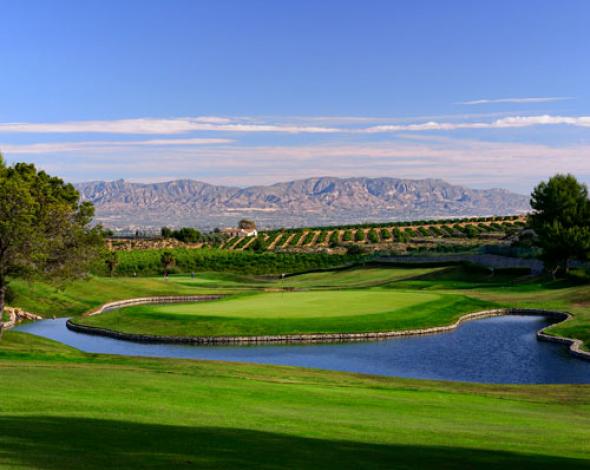 Alenda Golf:
Un campo muy emblemático en Alicante, construido por Roland Favrat, con gran respeto al orografía y con vegetación propia de la finca lo que da un estilo muy natural. En su construcción se ha respetado la estructura de sus tierras. Es un campo de 49 hectáreas de terreno, 18 hoyos par 72, una excelente zona de práctica y 6.257 metros de recorrido.
Font del Llop Golf Resort:
Es un proyecto que nace desde el 2010, integrando el paisajismo del valle donde está ubicado, con el medio ambiente y el golf en un lugar privilegiado en la costa de Alicante.Posee un proyecto deportivo y de desarrollo a futuro que lo hace unos de los enclaves más importantes para el jugador de golf.Tiene restaurante que ofrece un servicio de calidad, una casa de club típica al estilo mediterránea, con una terraza y vistas espectaculares.Su ubicación es perfecta, se encuentra a 10min del Aeropuerto de Alicante, con acceso directo a las Autopistas de Madrid, Murcia y Valencia.
Alicante Golf:
Con un diseño muy moderno, obra de por Severiano Ballesteros, es un campo situado en la Playa de San Juan, muy cerca de Alicante. el curso tiene un par de 72, con seis par 3, seis par 4 y seis par 5. Posee un curso plano, no muy intenso y se puede ver el verde en todo los agujeros, posee dos característica diferentes: la principal característica es su lago en forma de S que rodea el green y la segunda es de las ruinas romanas, junto al 14 que el jugador debe despejar para alcanzar el green.
Vistabella Golf:
Un espacio muy amplio diseñado para que cada jugador pueda disfrutarlo en totalidad, con calles onduladas, sus bunkers estratégicos, sus lagos, lo hacen con un diseño único y uno de los más atractivos de la zona. Con 18 hoyos de Vistabella Golf, par 72 y más 6000 mts de longitud han sido diseñados con detalles muy modernos con 4 tees de gran amplitud en cada hoyo y calle anchas y bunkers realzados.