5 great places to play golf near Santa Pola.
Golf La Finca:
A unique place to be designed by Pepe Gancedo, one of the best amateur players in the history of golf in Spain, it has one of the best golf courses in the Valencian community and España.Es a course with wide and generous streets, which gives an excellent margin of forgiveness to the highest handicaps, the best thing about this course are the golf greens that are of varied shapes and singular beauty, making every greens unique. One of the most famous greens is the number 7 square in shape and with large dimensions reminiscent of an English bowling alley. equally the hole 14 greens to remember as it reminds you of the shape of a Chinese wok.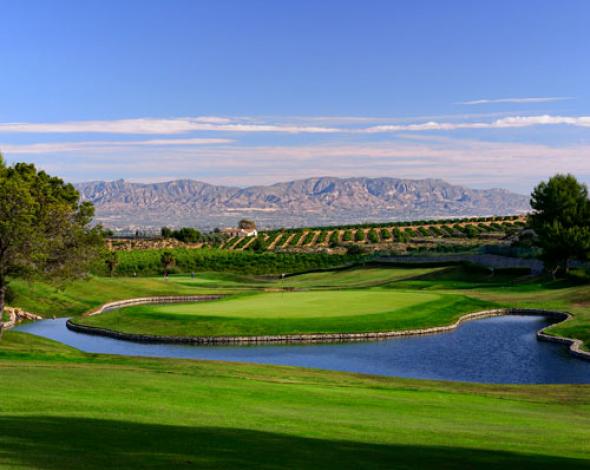 Alenda Golf:
A very emblematic field in Alicante, built by Roland Favrat, with great respect for the orography and vegetation of the farm which gives a very natural style. In its construction, the structure of its lands has been respected. It's a field of 49 hectares of land, 18 holes par 72, an excellent practice area and 6.257 meters of travel.
Font del Llop Golf Resort:
It is a project that was born from the 2010, integrating the landscaping of the valley where it is located, with the environment and golf in a privileged place on the coast of Alicante.It has a sports and development project in the future that makes it one of the most important enclaves for the golfer. It has a restaurant that offers quality service, a typical Mediterranean-style clubhouse, with a terrace and spectacular views. Its location is perfect, is 10min from Alicante Airport, with direct access to the Madrid Motorways, Murcia and Valencia.
Alicante Golf:
With a very modern design, work by Severiano Ballesteros, is a field located on San Juan Beach, very close to Alicante. the course has a couple of 72, with six pair 3, six pair 4 and six pair 5. He owns a flat course, not very intense and you can see the green in all the holes, has two different features: the main feature is its S-shaped lake that surrounds the green and the second is the Roman ruins, next to the 14 that the player must clear to reach the green.
Vistabella Golf:
A very spacious space designed for each player to enjoy in full, with undulating streets, your strategic bunkers, its lakes, they do it with a unique design and one of the most attractive in the area. with 18 Vistabella Golf holes, pair 72 and so on 6000 mts in length have been designed with very modern details with 4 large tees on every wide hole and street and highlighted bunkers.